We are extremely proud of the team that drives Blind Tiger Comedy. All our classes are led by professional, working comedians. Behind the scenes, we have an incredible, versatile staff (many of them comedians themselves) that makes it all possible.
Blind Tiger Comedy was founded by internationally-recognized improv groups The Sunday Service and Hip.Bang!, and the school's core faculty are the six players from those two groups. Not only that, but in our short history we've also added some of the best staff in the game. Meet them below.
Founding Groups
The Sunday Service
Since their humble beginnings in 2005, The Sunday Service has quickly become the toast of Vancouver's alternative comedy scene with their unique blend of improvised theatre.
Coming from a wide variety of backgrounds and disciplines, these six performers deliver a style rarely seen in Vancouver. They skirt the line of meta-comedy, rock opera, witty word play and slap stick shtick, combining it all for an addictive cocktail that makes habitual users out of even the most casual observer.
Hip.Bang!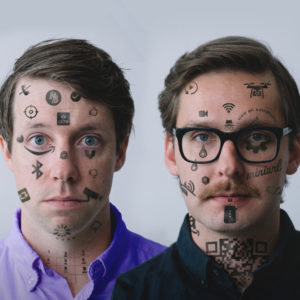 Hip.Bang! is a duo from Vancouver whose playful, experimental comedy, video and theatre productions have delighted audiences worldwide.
Tom and Devin of Hip.Bang! have been featured at Just For Laughs, Det Andre Teatret (Oslo), Comedy Central, JFL NorthWest, San Francisco SketchFest, NXNE, Rapid Fire Theatre's Improvaganza, the Detroit Improv Festival, Del Close Marathon, Out Of Bounds Comedy Festival, and more.
FACULTY
Aaron Read
Aaron Read is an improvisor, musician, and visual artist working out of Vancouver. He has been performing weekly with The Sunday Service since 2008 and has loved every minute of it (for real)! Previous experience includes being a founding member of Canadian Comedy Award nominated AKA Improv and a main stage player at Vancouver TheatreSports™ League. A few notable moments in Aaron's career include winning best improv troupe in Canada with The Sunday Service in 2012, a nomination in 2007 for best improv troupe with AKA improv, and performing alongside the likes of Bob Odenkirk (Mr. Show), Paul F. Tompkins (Mr. Show), and Mark Chavez (The Pajama Men). With over 9 years of improv experience including training from Alistair Cook (Instant Theatre), David Razowsky (Second City) and Lee White (Crumbs) Aaron has cemented himself as a creative and collaborative force in the improv world.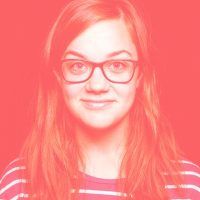 Allie Entwistle
Allie is an improviser and sketch comedian living in Vancouver. She is one half of the Vancouver Comedy Award winning improv & sketch power-duo Brunch, and one tenth of the all-female super group Nasty Women. Recently, she's performed at JFL Northwest, Improvaganza, Toronto Sketchfest, and with VIIF's International Ensemble. Allie is the Artistic Producer at Improvcamp, a summer camp for teens who love improv and has over a decade's experience working with youth of all ages.
Amy Shostak
Amy Shostak is an improvisor, educator, facilitator and producer. She started improvising with Edmonton's Rapid Fire Theatre in 2002, and she served as the company's Artistic Director for six years. Now in Vancouver, Amy leads improv workshops with Blind Tiger Comedy, performs weekly with Little Mountain Improv, and is an organizer of The Vancouver Improv Festival. Amy also leads workshops for seniors through a program called Arts + Health. Amy is thrilled to have been a part of many amazing festivals around the globe, including FERIIR on Reunion Island, Monkeyfest in Bogota, and Improvention in Canberra. She tours regularly with her improv duo Rå Power with Joleen Ballendine, as well as her Canadian Comedy Award-nominated sketch duo Gossamer Obsessions.
Caitlin Howden
Caitlin Howden is the writer and performer of four critically acclaimed main stage revues at The Second City (Toronto). With a total of fourteen Canadian Comedy Award nominations in four years, she is the winner of multiple awards including Best Comedic Play/Revue (2010, 2011), Best Sketch Troupe (Second City 2009), and Best Improv Troupe (The Sunday Service, 2012).
Recently her teaching has brought her to Poland and Paris.
Caitlin is a founding member of Uncalled For (Montreal) and is also the co creator of Ghost Jail Theatre (Montreal, Toronto, Winnipeg, Vancouver). Last year, her TIFF debut "Crackin' Down Hard", directed by Mike Clattenburg (Trailer Park Boys), was chosen as one of the Top Ten Shorts.
Since moving to Vancouver, Caitlin happily joined the main stage cast at Vancouver TheatreSports League. Caitlin calls The Sunday Service home, and is thrilled to add Blind Tiger to that list.
Devin Mackenzie
Devin Mackenzie is an actor, comedian, teacher, playwright, and theatre creator currently making art on the traditional, ancestral and unceded territory of the Coast Salish Peoples, including the territories of the Musqueam, Squamish, and Tsleil-Waututh Nations.
As one half of the duo Hip.Bang! (Artistic Risk Award Winners / Canadian Comedy Award Nominees) Devin has toured both improvised and scripted shows to LA, San Francisco, New York, Chicago, Toronto, Oslo and more. 2018's SURVEIL headlined rEvolver festival at the Cultch and explored modern surveillance and invasion of privacy by actively presenting audience member's personal information during the performance. They are currently working on HOME, a show about personalizing the effects of climate change using immersive projections, live visual effects, and VR. Later this year they will begin working on a show called TI:ME that will explore, deconstruct and suspend its audiences' dependence on time alongside visual art projectionist extraordinaires Mind of a Snail.
Devin is also a cofounder of Blind Tiger Comedy, and you can find him performing every Saturday night with Treat Show Comedy at China Cloud Studios.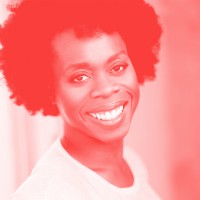 Ese Atawo
Ese Atawo is a Nigerian-born, Toronto-raised, Vancouver-resident improviser. She started her comedy career at Second City learning improv and she's still doing it… to her surprise. Ese Atawo is a cast member of Instant Theatre where she's the co-creator and co-host of East Vancouver Improv League aka EVIL Improv. She's also part of acclaimed local troupes Your Moms and Nasty Women.
Kevin Vidal
Kevin Vidal is a Canadian Screen Award and Canadian Comedy Award winning actor for his work in Canadian television and theater. He wrote and performed in two Second City Toronto mainstage revues, was a regular performer at Bad Dog comedy theater and most recently finished a two year run in Mirvish's hit musical Come From Away. Kevin has also been improvising and performing sketch with his comedy partner/best friend, Christian Smith, since 2014 as Soul Decision Comedy. Born and raised in Toronto, Kevin now calls Vancouver home and is excited to be starting a whole new journey of learning, exploration and comedy with Blind Tiger.
Kevin's recent television credits include Strays (CBC), Workin' Moms (CBC), Sunnyside (CityTV), But I'm Chris Jericho (CBC), Soul Decision Comedy (CBC) and Kim's Convenience (CBC).

Kerri Donaldson
Kerri Donaldson is an improviser, writer and comedian here in Vancouver. She is a member of the all-female improv powerhouse Nasty Women and half of the Comedy Award Winning sketch and improv duo Brunch (alongside fellow faculty member Allie Entwistle). She has travelled across Canada and the US for her sketch and improv including festivals like JFL NorthWest, Improvaganza, Portland Sketchfest, Austin Improvised Play Festival, Del Close Marathon (NYC) and Toronto Sketch Comedy festival. She is also a proud alumni of the first ever Blind Tiger Sketch House Team. Fun facts about her: she is a twin, she is Métis, she is shameless with puns and your hate for them only fuels her. She feeds on it honestly.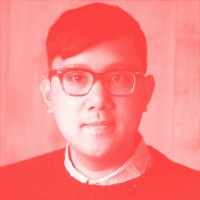 Ronald Dario
Ronald Dario is a sketch comedian and improviser from Vancouver and an alumnus of Blind Tiger Comedy's improv and sketch house teams. He is also a cast member at Instant Theatre. Ronald has performed at JFL NorthWest, the UCB Theatre's Del Close Marathon (New York), the Vancouver International Improv Festival, and the Vancouver Sketch Comedy Festival. He also regularly performs at local shows like The Hero Show, Sidekicks, and Weird Al Karaoke.
Ryan Beil
Ryan Beil is an actor and comedian based in Vancouver, BC. Best known for a run of commercials for A&W restaurants, his legendary improv troupe the Sunday Service and a decade long career as an actor of note on stage and screen. When he's not performing he's watching baseball. He is also the co-founder of the comedy school "Blind Tiger" and curates a live venue called "Little Mountain Gallery."

Sasha Mark
Sasha Mark is a Cree-Métis stand up comedian originally from Winnipeg, Manitoba but now living in Vancouver since 2019. He has worked with the Winnipeg Comedy Festival, Pride Canada, The Winnipeg Fringe Festival and is most known for his work on the television show APTN's "The Laughing Drum" hosted by Tim Fontaine.
Outside of the comedy world, Sasha has been working for the non-profit sector for almost a decade, primarily in educational programming, volunteer coordination and community engagement. You may remember Sasha as the former General Manager of Blind Tiger Comedy – proof that he is a mega talented comedian. If you haven't met Sasha yet, spoiler alert: he's the absolute best.

Sydney Campbell
Sydney Campbell (they/them) is a queer, non-binary improviser, sketch writer and performer, director, and instructor based in Amiskwaciwâskahikan (Edmonton, Alberta). They improvise as a senior ensemble member of Rapid Fire Theatre, and teach through Rapid Fire's youth outreach program, kidprovisers, and more. Syd also writes and performs with their queer sketch duo Gender? I Hardly Know Them, who's recent credits include live online sketch show "Httpeepee" (2020), Gender? I Hardly Know Them (the webseries) proof of concept pilot episode, (2019-2020), and Gender? I Hardly Know Them live premier at the Edmonton International Fringe Festival (2019). 
Taz VanRassel
Taz VanRassel has been committed to a life of improvisation and comedic performance since 1995 when competing in the Canadian Improv Games.
His initial training was with The Vancouver TheatreSports League and Unexpected Productions (Seattle). Taz was a founding member of !nstant theatre with one of his first teachers and mentors Alistair Cook. Since then he has gone on to perform with four time Canadian Comedy Award nominees for best improv troupe Urban Improv, as well as securing a mainstage performer position at Vancouver TheatreSports League for the past 7 years.
His biggest accomplishment to date is co-founding the Sunday Service in 2005 and watching it grow into a staple of Vancouver's comedy scene, culminating in national recognition when they won best improv troupe in Canada in 2012. Taz has collaborated and performed with the likes of Ryan Stiles (the Drew Carey show), Colin Mochrie (Who's line is it anyway), David Cross (Arrested Development), Bob Odenkirk (Breaking Bad), Will Sasso (Mad TV), Scott Adsit (30 Rock), Sean Cullen (Last Comic Standing) Paul F Tompkins (Mr. Show) and Oscar Nunez (the Office[US]).
Toddy
Toddy is a standup comedian, drag performer, sketch comedian, improviser, and musician. They are the season 1 winner of OutTV's new drag reality series Call Me Mother. Toddy has been featured in numerous festivals including JFL42, JFL Vancouver, YYC Comedy Festival, Portland Queer Comedy Festival, Toronto Sketchfest, and Toronto Pride. She has been a part of the Montreal Improv House Team, as well as Toronto's Bad Dog Featured Players. Trained as an opera singer, Toddy loves finding the intersect of classical music and mainstream media and was most recently a featured artist at the Vancouver Symphony Orchestra's "Symphony of Terror!" Outside of comedy, Toddy is recording her debut music album with 604 Records!
Tom Hill
Tom Hill is an improvisor, actor and writer from Regina, Saskatchewan. As half of the duo Hip.Bang!, Tom has co-written, directed and produced all manner of video, live and radio projects since 2008, including 2019's look at modern surveillance and invasion of privacy Surveil (with Marie Farsi), appearances at Just For Laughs and JFL NorthWest, showcases for Comedy Central Los Angeles.
Tom has toured the world as an improviser and sketch comedian, written for various CBC Comedy projects including CBC Radio's The Irrelevant Show and appeared in various TV and advertisements. He is one half of Amy&Tom (FERIIR, Reunion Island, Big City Improv Festival), and was a main stage cast member at Vancouver TheatreSports.
Tom is one of two Co-Directors at Blind Tiger Comedy (hi Caitlin!) and has a long history as a producer in arts/comedy in Canada, and currently sits on the boards of the Canadian Association of Stand Up, Improv and Sketch Comedians (CASC), and the Association for Canadian Comedy (CANCOM), groups which advocate for comedians federally and provincially.
STAFF
Allie Shapiro – General Manager
Allie
 Shapiro is an actor with a background in writing, theatre-making, interactive/immersive pieces, and community work. 
Allie
 grew up in Connecticut, studied in Montréal, and most recently lived in Brooklyn, NY. Although desperately missing 99 cent pizza and 24 hour delis, 
Allie
 is very excited to call Vancouver her new home. Outside of performance work, 
Allie
 has enjoyed working in the hospitality industry, theater education, and production and is thrilled to be a part of the Blind Tiger Community!
Anna Robinson – Assistant General Manager and Interim Showrunner
Anna Robinson is an aspirational comedy writer and performer – thrilled to join the Blind Tiger Comedy team! Although she's always been a hopeless creative at heart, she took a significant detour and practiced as a lawyer for two years. These days, when she's not submitting self-tapes or sneaking onto sets, she's working as a stills photographer, jogging around the city, or listening to an audiobook.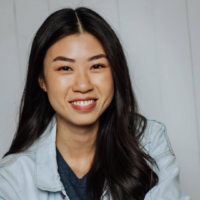 Jackie Wong – Head of Events
Jackie is positively delighted to join the Blind Tiger team as Head of Events. Coming from a background in nonprofit development & event planning, Jackie is excited to bring her love of people and meaningful work to the comedy world. If you keep your eyes peeled, you might also catch Jackie in her acting/writing/producing endeavours which include many critically-acclaimed roles such as "Sorority Girl #7" and "Woman Launched Off Couch."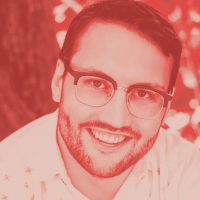 Steve Currie – Head of Business Development
Steve Currie loves comedy and spreadsheets and so coming into the role of Blind Tiger's Business Development Manager is a great fit. He performs improv with his best friends "Paintbucket" and has produced shows large and small all over Vancouver and his home town of Winnipeg. In 2016 Steve produced and directed the Canadian Festival of Spoken Word. Now he works for Vancouver's largest bookkeeping firm doing financial preparation and corporate strategy. He's very excited for the future of Blind Tiger and always wants to talk about it, so if you see him, say hi!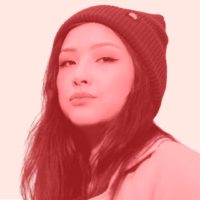 Emma Wong – Showrunner
Almost everywhere you look online, you can find Emma in the chat or audibly laughing in the background, doing what she loves the most: connecting with the audience. Emma began regularly co-hosting a Twitch stream in 2018, and cites the experience as fundamental groundwork in transitioning live improv shows to digital live streams. Her recent projects include technical directing the "The HERO SHOW – Live from the Cloud" fundraiser for the China Cloud, "Sook Yin Lee… at home" album release for Mint Records, and the weekly online iteration of "The Sunday Service".
Besides online antics and experiments, she is the musician and songwriter on the Youtube channel "Not Even A Show" and the Stitcher Premium podcast "Good Morning Good Morning".
Emma has worked professionally in the non-profit theatre sector for 7 years in operations.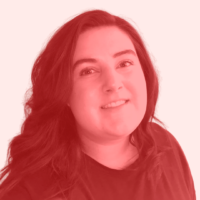 Silken Handford-Perronet – Outreach Coordinator
Silken Handford-Perronnet is an avid improv audience member and has been attending shows since she moved to Vancouver in 2013. In 2016, she graduated from audience member to running the box office for Grad School Improv.
Silken has conducted research with the UBC First Nations and Endangered Languages Program, the Maritime Museum, and Urban Ink Productions. In her position at the UBC Social Justice Insitute, Silken is responsible for the department's social media and outreach. Silken is excited to bring her background in collaborative research and outreach experience to her role as Outreach Coordinator at Blind Tiger Comedy. Outside of work Silken, is a ferocious reader who loves fantasy, science fiction, and dabbles in the world of D&D.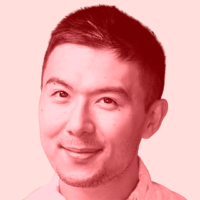 Curt Da Silva – Diversity and Inclusion Coordinator
Curt Da Silva is an improviser, comedian, and math person born and raised in Vancouver. Curt started improvising with Instant Theatre almost a decade ago and has been performing improv, sketch, and stand-up on stages all over Vancouver ever since. He is the founder, producer, and cast member of Fistful of Kicks, an all-Asian Canadian improv group creating hour-long East-Asian legends with kickass stage combat. He's performed at festivals all over North America, including the Vancouver Improv Festival, Stumptown Improv Festival, the Austin Improvised Play Festival, the Seattle Festival of Improv Theater, and the Asian & Funny Festival. More important than any of that though, is the fact that he has an adorable corgi named Kiki who is currently trying to dig into the floor next to his desk as he is typing out this bio.
FEATURED TEACHERS
We are lucky to be connected to some of the best comedic minds in the world, straight up. Sometimes we're lucky enough to have them come by and share their wisdom with us. Maybe they've been through once, or thrice, and/or they're coming back this weekend.

Daphney Joseph
Daphney Joseph is a bilingual actor, comedian and writer originally from Montréal. She graduated from the Conservatory at the Second City Training Center and joined their EdCo cast while teaching improv workshops in English and French. She's part of the inaugural Featured Players at Bad Dog Theatre.
Her improv duo, Coko & Daphney performed in festivals like  Harbourfront's BRAVE Festival 2018, Vancouver Improv Festival, Chicago Comedy Festival, Boston Comedy Festival,  DCM (New York) and many more. In 2015, she joined the French Improv troupe Les Improbables and meets Florian Francois. They form DaFlo, together they improvise and write sketches in Quebec and Ontario. They've also performed at Montreal SketchFest with the troupe Boubbi-Trappe. Daphney has done stand-up at  YukYuks for The Nubian Show,  Absolute Comedy, in SheDot Festival, in Shade Festival, at Yas Kween. She appeared in Private Eyes (CityTv), Baronness Von Sketch (CBC)  and Pranks (TFO).
Anders Yates
Anders Yates is an improviser, writer, actor and comedian currently living in Toronto. As a founding member of the acclaimed improv and sketch comedy troupe Uncalled For, he has toured North America, performed at multiple Just For Laughs festivals and generally enjoyed himself the entire time. He is an original member of the award-winning dance/comedy troupe Dance Animal and co-creator of the queer improv troupe Kinsey Fail. Anders has performed as a member of the Second City Touring Company, has worked extensively with Bad Dog Theatre, appeared in the Toronto premiere of the Tony Award winning play Oslo (Mirvish/Studo 180), and is grateful to have been able to perform on stages as far afield as Warsaw and Tokyo. He is the director, producer and host of the online improvised reality tv parody The Oval, presented by Bad Dog Comedy TV. Anders is a frequent contributor to the satirical news website The Beaverton.
John Gebretatose
John Gebretatose is an international improv powerhouse, coaching teams, holding improv workshops in theaters, hospitals, corporate workspaces, and schools. He is a HUGE Improv Theater instructor and is also the Director of Diversity and Inclusion. He has taught improv workshops in theaters, hospitals, corporate workspaces, in K-12 schools and colleges. He has led and facilitated diversity and inclusion programming for improv theaters all over the world with a mission of uplifting all voices. He trained and worked at the Brave New Workshop and has been performing stand-up, improv and sketch comedy in the Twin Cities for over 10 years. John is a founding member of one of the hottest improv groups, Blackout Improv. He is the co-founder of the Black and Funny Improv Festival. He is one of the founding members of the sketch comedy show, Late Nights Minneapolis. He has traveled the world performing, teaching and directing improv.
Todd Houseman
Todd Houseman is a Nehiyo (Cree) actor, improviser, and writer from Edmonton, Alberta (Amiskwaci). His work focuses on decolonization by prioritizing indigenous narratives through satire, political commentary, and traditional/contemporary storytelling. In Edmonton, Todd was a senior performer and instructor with Rapid Fire Theatre from 2009-2017. He is also the co-writer/producer/star (with Ben Gorodetsky) of Folk Lordz, which began as a touring, improvised play and has evolved into a 2-season political sketch comedy web series. Todd recently graduated from the acting program at the National Theatre School of canada. In his free time, Todd enjoys building masks, forging knives, or being in the forests of western Alberta. 
Inbal Lori
Inbal Lori is a graduate of Jerusalem Art High School (1994) and Nissan Nativ acting studio (2000). Since then she has been writing and acting for television and theater and has won prizes and scholarships for her acting and writing. Inbal started improvising in Tel Aviv in 2001 where she had her group 3FALLING and ran an improvisation school in the city from 2013 – 2017. In 2015 Inbal moved to Berlin and since then she has taught and performed all over the world in places like: USA, Canada, Australia and Europe. Her performances include her solo show "Fragments of Life" and duo shows such as "CLICK" with Tim Orr (San Fransisco), "The Lorilees" with Lee White (Canada), "The Fun Fatales" with Paula Galimberti (Spain) and "Playing with the Enemy" with Arab improviser Zaki Zikani.
In Berlin she is working and coaching the local groups "Die Gorillas" and "ImproBerlin".
Stephen Davidson
Stephen Davidson is the London-based Artistic Director of The Improvised Play,  Improvable, QI: Queer Improv, Carmen: A gender-swapped Film Noir Fantasy, and of Zeal: The Pride Improv Festival. Stephen teaches improv through Improvable and the Nursery Theatre, with the Free London Improv Project, and  Hoopla Improv. He has taught and performed all over the world.
Stephen loves improv and one of the world's most cheerful people when playing or teaching. When coaching and directing improv he prides himself on creating a positive environment so that players can perform at their best. Stephen likes his improv like he likes his partners; silly, clever, and emotionally connected. https://impromiscuous.com/
Coko Galore
Coko Galore is a prolific actor, comedian, director, producer and curator. She's one half of the touring improv duo Coko & Daphney. Coko is an artist that focuses on highlighting BIPOC & LGTBQ+ performances and stories.  She is Artistic Director & Curator of 'Black and Funny – Toronto' and director of 'Playlist' (Ottawa Improv Festival) and 'Love' (Vancouver Improv Festival). At the beginning of 2020, Coko became Artistic and Managing Director to the 30 year-old award-winning improv company, Bad Dog Comedy Theatre and she has been instrumental in launching their new online Bad Dog Comedy TV.  Find Coko on social media @cokogalore or her website cokogalore.com.
Annie O'Connor
Annie O'Connor is a veteran improviser that has been teaching and performing since 1997. Annie studied with iOwest in Los Angeles and fell passionately in love with all forms of improvisation. She has spent her entire adult life performing, teaching, touring and coaching. Annie and her partner Levin opened NOW Improv in Los Angeles in 2010 then in 2016 went on to be Co-Educational Directors of Mi's Westside Comedy Theater in Santa Monica, CA. Recently she and her family moved  to Montana and opened a new theater, Last Best Comedy. In teaching,
Annie believes that there is no right way to improvise. Improvisation technique is as unique as we are and an instructors job is to help understand and heighten the individual talents of her students not constrict them with rules and form. Improv is the art of YOU.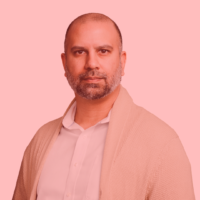 Vinny Francois
Vinny Francois has nearly 25 years of experience as a professional improviser in both English and French and is an award-winning instructor. A founder of Improv College, the Montreal Improv Theatre, and Camp Zipzap, he has performed in more shows and venues around the world than he cares to count. He has been published in McSweeney's Internet Tendency and is currently a staff writer for Canadian satire site, The Beaverton.
Becky Johnson
Becky Johnson is a recent alumna of Toronto's Second City Mainstage cast. She is best known in Toronto for her work with influential improv duos, Iron Cobra (with Graham Wagner) and The Sufferettes (with Kayla Lorette).
Becky is also a graduate of the Dell'Arte International School of Physical Theatre. She has created and produced two solo clown shows, one duo clown show and a one-woman scripted play, Anorexican, which won her the Spotlight Award at the 2007 Summerworks festival. Becky has performed and taught internationally for more than a decade.
Becky was the Blind Tiger Comedy Comedian-In-Residence for the summer of 2019.
Lee White
Originally from Winnipeg Canada, now based in Berlin, Lee is most known for being part of the famous improv duo CRUMBS. Lee White has been performing and teaching improv (almost) all his life. Touring with shows and workshops all over Europe, Asia and North America, for over 20 years, his unique philosophy of improv has made him welcomed everywhere he goes.
Aside from CRUMBS, Lee has been involved in the invention/development of several new shows/formats such as Knowledge and Punishment, Clever: The Live Comedy Game Show, Your 15 minutes of fame, 'Paradigm' with Joe Bill, The Lorilees with Inbal Lori, and Winnipeg's infamous Dungeons and Dragons Improv Show. Lee has performed in countless plays and independent films, television, as well stand up comedy, all over this planet.
Kaisa Kokko
Kaisa Kokko, an improviser, instructor and communication skills teacher, has learned, performed and taught improvised theater for more than 12 years and has more than 20 years of experience in scripted theatre. She has had the pleasure of teaching and performing improv in the United States, Peru, Costa Rica and all over Europe. Kaisa is the co-founder and teacher of Finlands first Finnish Improv Training Center ImproKampus and the co-artistic director of two theaters, Mikäklubi and KujeImpro. Kaisa has taught improv for kids, teenagers and adults from different fields of life, performs regularly in two different improvisational theaters and has her own musical-duo. She also does a lot work in the field of applied improvisation and communication skills.
Kaisa specializes in deep and meaningful connections, relationship based grounded scene work and musical improvisation. Kaisa has studied at the iO Chicago, Unexpected Productions in Seattle and under many great improv teachers all over the world. Kaisa firmly believes in the strengthening power of improv and is thrilled to be part of something that will – little by little – change the world!
Ben Gorodetsky
Ben Gorodetsky is a physical-theatre maker, improviser, burlesque performer, and educator based in Brooklyn. Prior to moving to NYC to pursue an MFA in Performance and Media at CUNY Ben lived in Edmonton, AB where he served as Associate Artistic Director of Rapid Fire Theatre. Ben is co-creator of award-winning comedy duo Folk Lordz (with Todd Houseman). Teaching and performing improvisation has taken Ben from LA to Austin, Yellowknife to Vienna, Ljubljana to Reunion (near Madagascar!). Ben performs burlesque and nightclub variety acts under the alias Ding-Dong Daddy, and has shared the stage with Taylor Mac, Jacq The Stripper, and Peekaboo Pointe. His multimedia, physical theatre performance works have been presented at festivals across Canada, and he has danced for Mile Zero Dance, The Brian Webb Dance Company, and The Jen Mesch Dance Conspiracy.
Joel Kim Booster
Joel Kim Booster is a comedian and writer based in LA. He has performed stand up on Conan, Comedy Central, MTV, LOGO and festivals and clubs both in the US and Abroad including Melbourne Comedy Festival and Just For Laughs Montreal. He has written for Billy on the Street, Problematic with Moshe Kasher and Big Mouth.
Kirsten Rasmussen
Kirsten Rasmussen is a Canadian Comedy Award Winning improviser and alumnus of The Second City Toronto Mainstage company. Kirsten has performed improv, sketch and solo shows all over the world. She is a current teacher and director at The Second City Toronto and The Bad Dog Theatre and teaches independent character classes out of The Comedy Bar. Kirsten's recent solo sketch show  won Audience Choice Award at TO Sketchfest 2018.
Sex T-Rex
Sex T-Rex (né Sexual Tyrannosaurus) is a Toronto-based Comedy troupe whose cinematic style, wild physicality and spot-on parody has delighted audiences across Canada and the USA.  Veteran improvisors, with hundreds of performances under their Cretaceous belts, Sex T-Rex branched out into scripted comedy in 2011.  Their shows Callaghan! and the Wings of the Butterfly , Leviathan, Watch Out WildKat! and SwordPlay: A Play of Swords have all garnered rave reviews and their last show, Wasteland won the Second City Outstanding Comedy award for 2016!

Nicole Passmore
Nicole Passmore is an improviser and comedian who has been performing for 17 years, and teaching improv for over a decade. Originally hailing from Instant Theatre in Vancouver, Nicole is now a performer, director, and faculty member with the Bad Dog Theatre Company in Toronto. Whether solo or with one of her troupes (Virginia Jack; Benjamins), she has performed at festivals across North America, including Improvaganza (Edmonton), Combustion (Toronto), VIIF (Vancouver), MPROV (Montreal), Stumptown (Portland), Out of Bounds (Austin), and the Detroit Improv Festival. Nicole is an alumna of the Second City HouseCo, was voted Bad Dog Theatre's "Favourite Instructor" for 2015 and 2016, and can be heard on multiple episodes of the award winning podcast Stop Podcasting Yourself.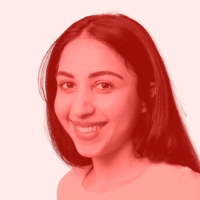 Bita Joudaki
Bita Joudaki is an Iranian-Canadian comedian and filmmaker currently based in Toronto. She has been writing and performing comedy for the last fourteen years and recently co-wrote and co-directed an episode of The Slowest Show, a comedy series on CBC GEM. Bita was a recent member of Bad Dog Theatre's Featured Players, and has performed comedy across Canada at festivals like Vancouver International Improv Festival and Combustion Festival in Toronto. She is one half of Sister Act, an improv duo with Christine Bortolin. Her web series, Golden Futures, that she wrote and starred in with Christine Bortolin, screened at LA Web Fest where she was nominated for Best Comedic Actress. Bita is currently working on a feature length horror comedy with development funding from Telefilm.
Amy Moule
Amy is an actor, improviser, teacher, director, puppeteer and ensemble member with Impro Melbourne. Amy has taught and performed Improvisation and drama workshops to children and adults all around Australia, in New Zealand, Phoenix, Minneapolis, Austin, Reunion Island, Germany, Paris and Barcelona. She has developed and directed numerous improvisational formats each of which have been performed in various cities across Australia and New Zealand and the USA. With a background in the performing Arts, Amy has performed in numerous scripted and non scripted shows including performances in the Melbourne Fringe Festival and Melbourne International Comedy Festival and Edinburgh Fringe Festival.
Keng-Sam Chane Chick Té
Keng-Sam Chane Chick Té is an improviser from Reunion Island (French Department) since 2000. He has been teaching and performing improv in many different countries ( Europe, Australia, Japan, Canada, USA ) and festivals such as Improvention in Canberra/Australia last year . When Keng-Sam is not busy travelling, he is producing the FERIIR Festival (International Improv Festival of Reunion), la Nuit de l'Impro and Oui et même que… which takes place once a year, in National theaters. Known for his body work, and his workshop about movement & music in improv scene, he is passionnate about the connection between those two tools. His motivation towards impro is " Be Fast in your mind, but Play slow", and what he loves the most about improv is being true and connected to yourself, your partner and the audience.
Tess Degenstein
Tess Degenstein (she/her)  is an actor, screenwriter, director, improvisor, and voice-over artist from Saskatchewan.
As an actor and improvisor, Tess has performed across the country, most recently touring the hit off-Broadway show Blind Date. Internationally she has performed and taught in Vienna, Berlin, Athens, London, Oslo, Atlanta, and New York. She has been nominated for multiple ensemble Canadian Comedy Awards and a Sterling Award for Best Actor for the world premiere of Nicole Moehller's An Almost Perfect Thing. She was awarded a Jessie Richardson award for her comedic turn in Noises Off at the Arts Club.  Television credits include featured roles in New Eden, Frankie Drake, King, and Murdoch Mysteries, as well as multiple international commercials and music videos.
Tess has written a handful of films, including Loved By You, which is currently being developed with Liz Whitmere as part of Whistler Film Festival's Women in the Director's Chair program. She has directed two shorts, and narrated multiple audiobooks.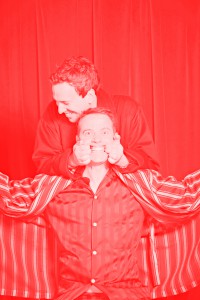 Pajama Men
The Pajama Men (Shenoah Allen and Mark Chavez) are a world-renowned comedy duo known for their unique style of narrative-sketch comedy that incorporates elements of stand-up, sketch, improv, and an array of memorable characters, all of which are narrowly contained by intricately woven story threads.
They have developed more than ten original stage shows together which have appeared on London's West End, in Chicago at both Steppenwolf and Second City, St. Anne's Warehouse in New York, The Sydney Opera House, The Largo in Los Angeles and countless clubs, pubs, theatres and festivals around the globe. They have written commissioned screenplays and television pilots for, HBO, BBC, Film4, Paramount, and Scott Free and have collaborated as writers with Paul King (Director of Mighty Boosh, Paddington) and James Bobin (Director of Flight of the Concords,The Muppets). The Pajama Men are Creative Associates of London's hottest comedy venue, Soho Theatre.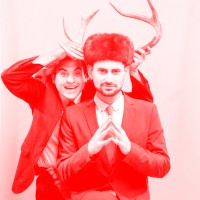 Folk Lordz
Ben Gorodetsky is an improviser, theatre artist and Associate Artistic Director of Rapid Fire Theatre. Ben's been improvising since 2004 and in that time has performed and taught improvisation in Austria, Slovenia, NYC, LA, Philadelphia, Austin, Detroit, Toronto, Vancouver, Montreal and the French island of Reunion (near Madagascar!). Along with Todd Houseman, Ben is co-creator of the award winning, multi-cultural improv show Folk Lordz, which fuses the unlikely combination of Cree storytelling, Chekhovian character drama, and spontaneous comedy.
Ben is the recipient of the 2016 Mayor's Celebration of the Arts award for Emerging Artist of the Year. Ben is the author of three plays: Boogie Monster Club (Snowglobe Festival), Magnetmonton (Fringe), 7 Steps to Success (NextFest, with Mat Simpson and Nikki Shaffeullah), and 2 seasons of weekly sketch show Pump Trolley Comedy. As a curator and producer Ben is the main creative force behind the Dirt Buffet Cabaret. Running monthly in co-production with Mile Zero Dance, the Dirt Buffet is an experimental variety show that focuses on short-form performance art and surprising spectacles. Ben holds a BFA in Acting from the University of Alberta.
Todd Houseman is an improviser, actor, aboriginal peoples interpreter, author, educator and musician. He's been improvising with Rapid Fire theatre since 2009. Todd is co-creator of the Cultural Diversity in the Arts award winning show Folk Lordz and co-producer of the Stories on the Hills, an indigenous storytelling gathering and festival. Todd's recent acting credits include the new APTN sitcom Delmer and Marta and Studio Theatre's play Or the Whale. His comic "Ayannisach" was featured in the 2015 School Library Journal Book of the Year award winning Moonshot: The Indigenous Comic Collection. Todd is also the singer, songwriter and drummer in his band Skunk Coat. In the realm of education Todd works as a cultural exchange facilitator and mentor for Indigenous and at-risk youth through Boyle Street Education Centre and the Journeys program.

Chris Wilson
Chris Wilson is an actor, writer and comedian who is one half of the 3x Canadian Comedy Award Winning sketch duo Peter N' Chris.  Peter N' Chris have performed at acclaimed festivals such as Just for Laughs, JLF42, San Francisco Sketchfest, Chicago Sketchfest, Toronto SketchFest, Gilda's Laughfest and have written videos for CollegeHumor. They are regulars on the Canadian Fringe circuit  where they have earned several Best of Fest Awards for their brand of narrative sketch comedy.
Chris now lives in Toronto where he runs the monthly stand up show Cloud Comedy and performs with Canadian Comedy Award winning Sketch troupe "Get Some" .  He is a writer for the CBC website Punchline, CBC Radio's The Irrelevant Show, the  web-series White Ninja voiced by Paul Scheer, and you've been reading his writing in this 'third-person bio".  Chris can be seen on the  CityTV Prank Show "Meet the Family" as well as in the upcoming SuperChannel show "What Would Sal Do?" – playing a young Scott Thompson (Kids in the Hall).
Paul Blinov
Paul Blinov is an improviser, writer and comedian based in Edmonton. He's a senior player with Rapid Fire Theatre, and has toured improv and sketch comedy to places like Seattle, Toronto and Winnipeg. Alongside Amy Shostak, he is one-half of acclaimed sketch duo Gossamer Obsessions.