DIVERSITY & INCLUSION
Blind Tiger Comedy is committed to welcoming a diverse range of voices, perspectives, and people into our community.
Meanwhile, harassment – be it verbal, sexual, physical or otherwise – is absolutely not tolerated at Blind Tiger Comedy classes, events, or rehearsals.
While not directly related, we feel addressing both these topics is critical to creating as safe a space as possible at our school. These efforts are evolving and we acknowledge we are learning as we go. We welcome your feedback at directors@blindtigercomedy.ca. Let's talk!
JUMP TO:

THE WELCOME
DIVERSITY SCHOLARSHIP
POC NIGHT
WTF (WOMEN TRANS FEMME) NIGHT
ANTI-HARASSMENT POLICY
ANONYMOUS HARASSMENT FORM
FINANCIAL AID SCHOLARSHIP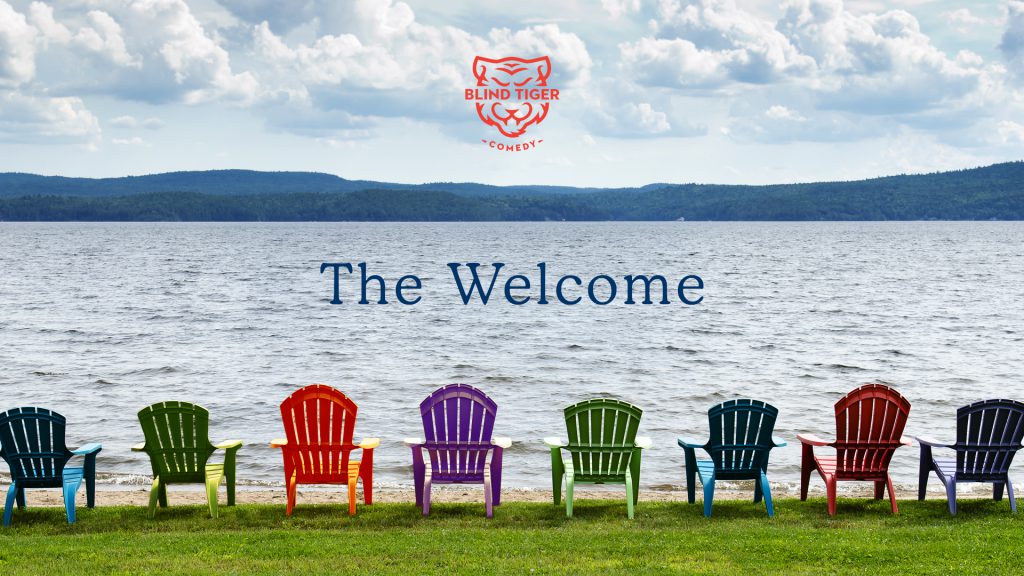 The Welcome
In the summer of 2019, we welcomed folks identifying as women, trans, gender fluid, and/or gender queer. Over 70 students took full Blind Tiger Comedy classes free of charge. In 2020, we are proud to say we will be moving forward with The Welcome 2.0 as our communities need access to affordable cultural initiatives more than ever. Stay tuned…
We're calling this initiative The Welcome because…well actually it's pretty clear why we're calling it that. We are already seeing a wonderful range of people in our classes at Blind Tiger, and we want to continue to support that. More voices in our classes help us reflect our community more. They help us teach, they help us learn, they make us funnier.
Stay tuned for more on the Welcome 2020!
WHY YOU SHOULD TRY IMPROV
Improv is a fountain of joy. It will make you funnier, it'll expand and relax your socials skills, it will introduce you to other like-minded folks, and above all you'll laugh and laugh. All of Blind Tiger's teachers are established, touring comedians you'll recognize from comedy stages around Vancouver and the world and who love to introduce improv to new faces, so you can trust you're learning from the best from day one.
ANTI-HARASSMENT AT BLIND TIGER
We understand that taking an improv class can be daunting at the best of times, even with this initiative. We are actively working to keep our spaces as safe as possible. All students sign an Anti-Harassment Policy, and we have a stringent anti-harassment protocol in our classes and shows. Our teachers strive to actively address any problematic scene work or choices quickly and calmly, whether it comes up deliberately or accidentally in our work. As always, we welcome feedback and questions about this programming via directors@blindtigercomedy.ca
A COUPLE LOGISTICAL NOTES
The Welcome is about welcoming new faces to our school. First time registrants only. That said, if you have already signed up for your first class with us July to September and you would like a refund, let us know!
It may be that—depending how many folks we are lucky enough to welcome this summer—we will eventually reach a cap of new students we can welcome, simply by reaching class limits. We are determined to welcome as many as possible however, so please, try us.
WELCOME!
Thanks for reading! We can't wait to welcome you into the sweet, hilarious world of improv this summer. Come jump in!

Diversity Scholarship
Blind Tiger Comedy (BTC) is dedicated to increasing the representation of people of different ethnicities, genders, sexual orientations and abilities into Blind Tiger Comedy's classes, shows, and the Vancouver comedy community as a whole.
BTC's Diversity Scholarship is available to people of colour, members of the LGBTQ2+ community, and differently abled people. The details of this scholarship are subject to change as we learn and receive feedback about this programming.
Who | What | How
The BTC Diversity Scholarship makes four Intro 1 classes available to people of colour, members of the LGBTQ2+ community, and differently abled people each semester (roughly January – March, April to June, July to September and October to December). In addition, four non-Intro 1 classes will be accessible via this scholarship each semester.
The BTC Diversity Scholarship is not explicitly need-based though we ask that applicants be mindful of their need when considering applying so that the scholarships may be given to those who might not otherwise be able to take classes at Blind Tiger Comedy.
BTC would like to acknowledge that some of the spaces they teach are lacking in terms of accessibility. While recents efforts have been made to improve these drawbacks, individuals should contact the school to confirm what their needs are so they can be best supported.
Applying
We have endeavoured to make the application process as light as possible, however there is no way around needing some information from applicants. Thus, to apply, we ask that you fill out this four question application.
Applicants will be accepted on a first-come, first-serve basis, with the exception of those applying who have already received a scholarship. Preference will be given to new students, therefore students who have received a scholarship and are applying again (welcome back!) will be contacted closer to when the semester begins.
Applicants will be contacted by BTC faculty at least a week before each semester begins.
Blind Tiger Comedy would like to acknowledge the work of other great theatres and communities have done developing programming like this, and specifically some of the language used in our programming, particularly HUGE Theater, Bad Dog Theatre, and Rapid Fire Theatre.

POC NIGHT
Every 3-6 months, Blind Tiger Comedy hosts a People of Colour Night. At 5:30pm, Blind Tiger Comedy faculty Ese Atawo will teach a free one-hour free improv class. From 7:15-8:15pm, it's the POC Jam! People of colour from across the Vancouver comedy community are welcome to come jam, no experience required!
The free improv class and jam show are exclusively for people of colour, though everyone is welcome to watch the jam at 7:30.

WTF (WOMEN TRANS FEMME) NIGHT
Every three to six months, Blind Tiger Comedy hosts its a WTF (Women Trans Femme) Night.
WTF Night aims to provide a safe, supportive environment to dig into improv/ comedy exclusively for those who identify as female, transgender, femme, genderqueer, trans-masculine, trans-feminine, or feel that their socialization or treatment as a woman, transperson, or femme has impeded their participation in improv.
This free drop-in class and jam are reserved for WTF performers. No experience required.
Blind Tiger Comedy is committed to running at least one WTF Night every six months.
Improvisers interested in BTC's WTF Night may also be interested in our Women Centre Stage class, which welcomes all people who identify as women, or identify with the experiences/struggles/strengths of womanhood and focuses on making strong offers, embracing unique voices, and taking agency on any stage.
ANTI-HARASSMENT POLICY
Blind Tiger Comedy does not tolerate harassment, bullying, violence or discrimination. In order to take a class with Blind Tiger Comedy, you must read and agree to the policy below, which you can do here.
We welcome your feedback about our Anti-Harassment Policy or any of our programming via directors@blindtigercomedy.ca. We see our efforts to make the Vancouver comedy community as safe as possible as part of an ongoing effort, not a one-step process, and will strive to learn and improve our efforts as we go.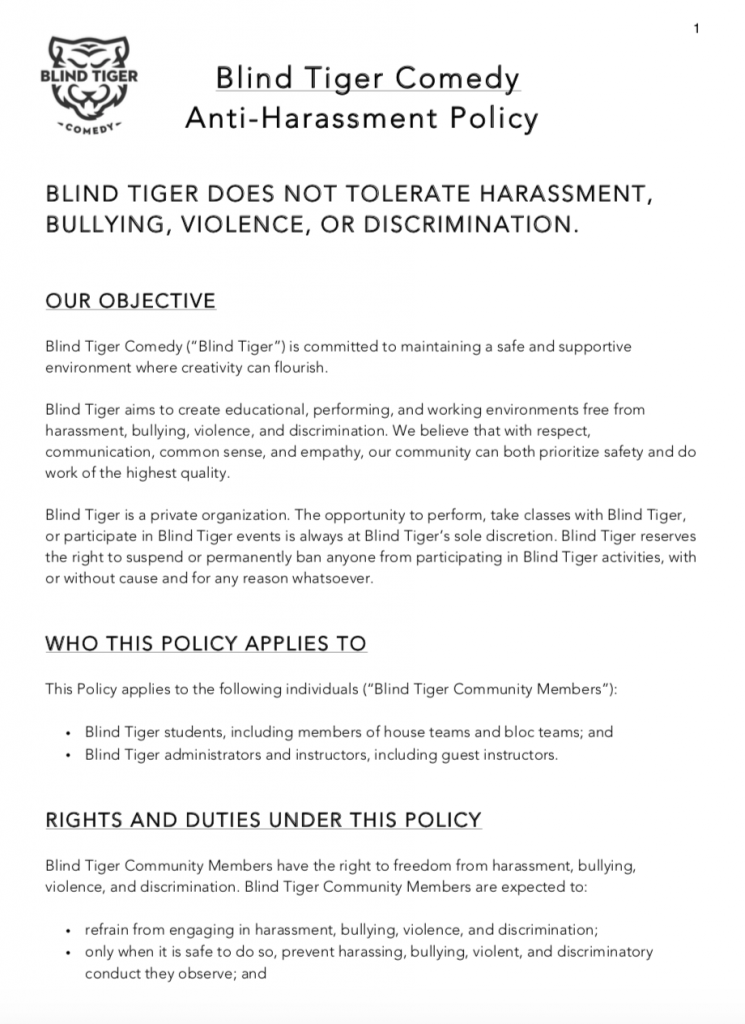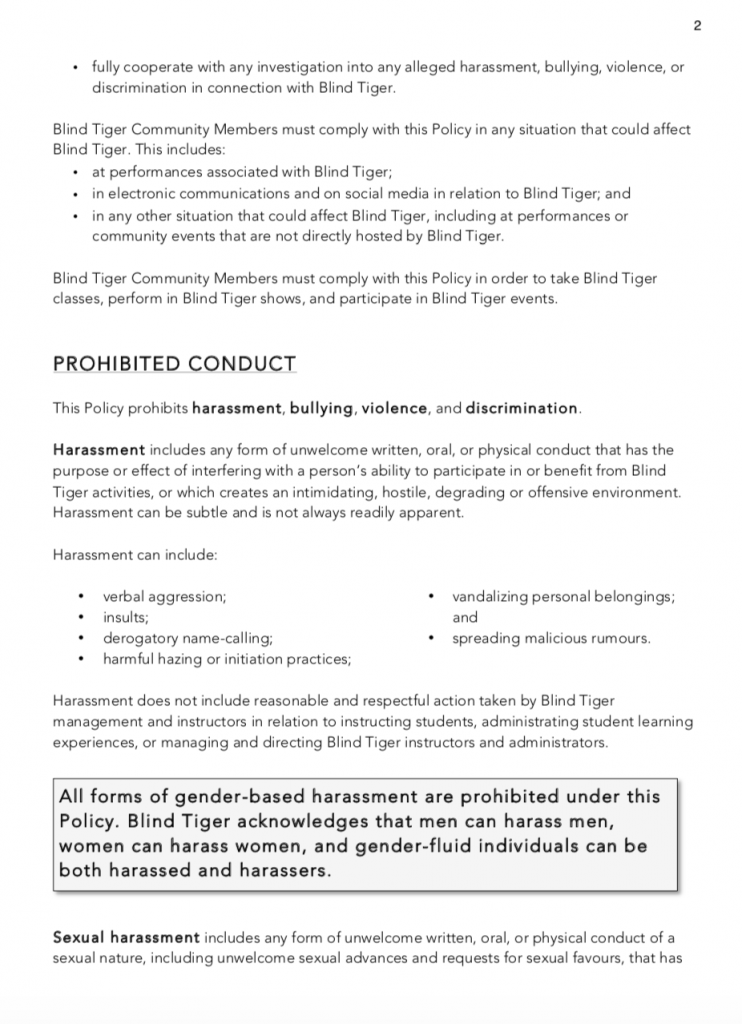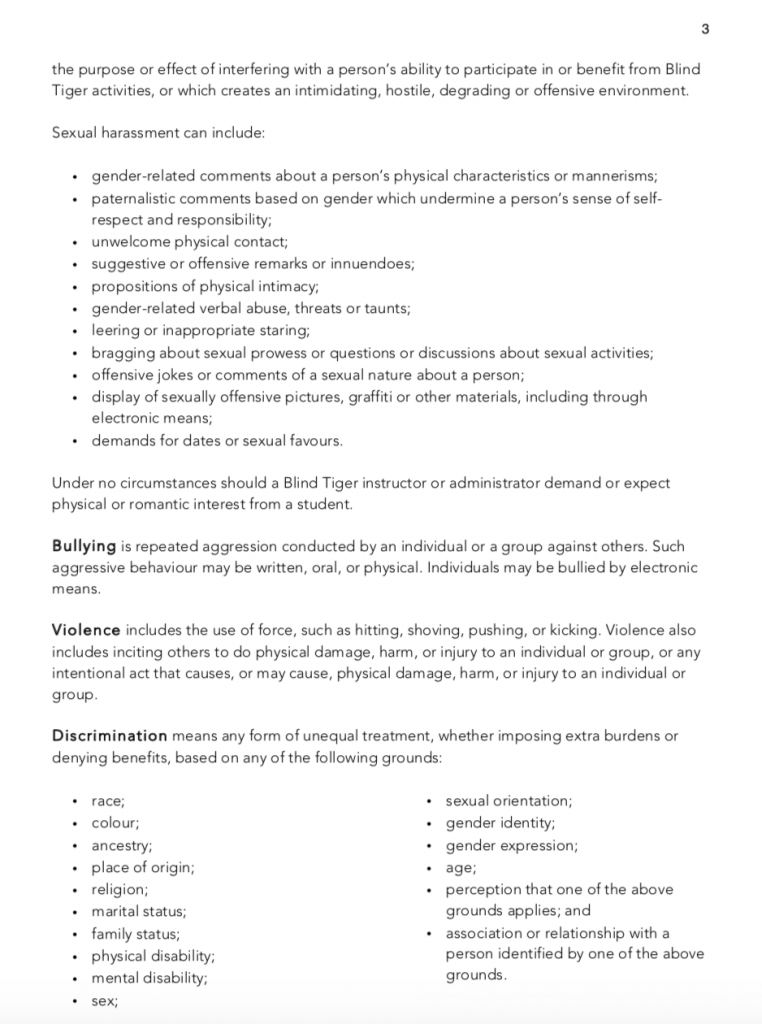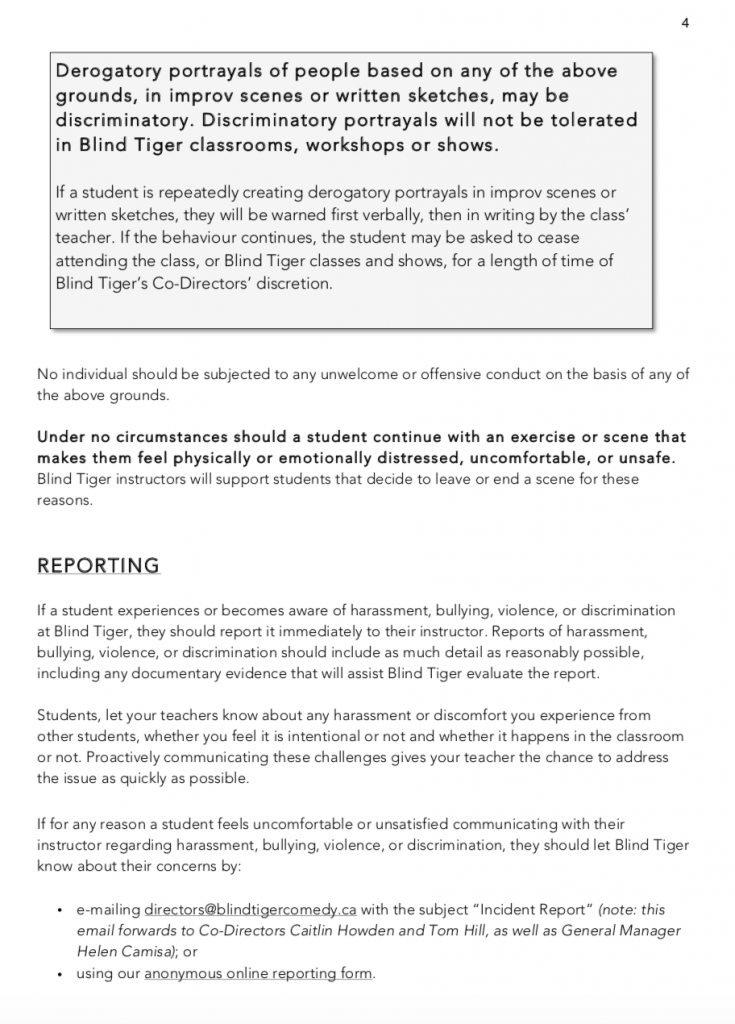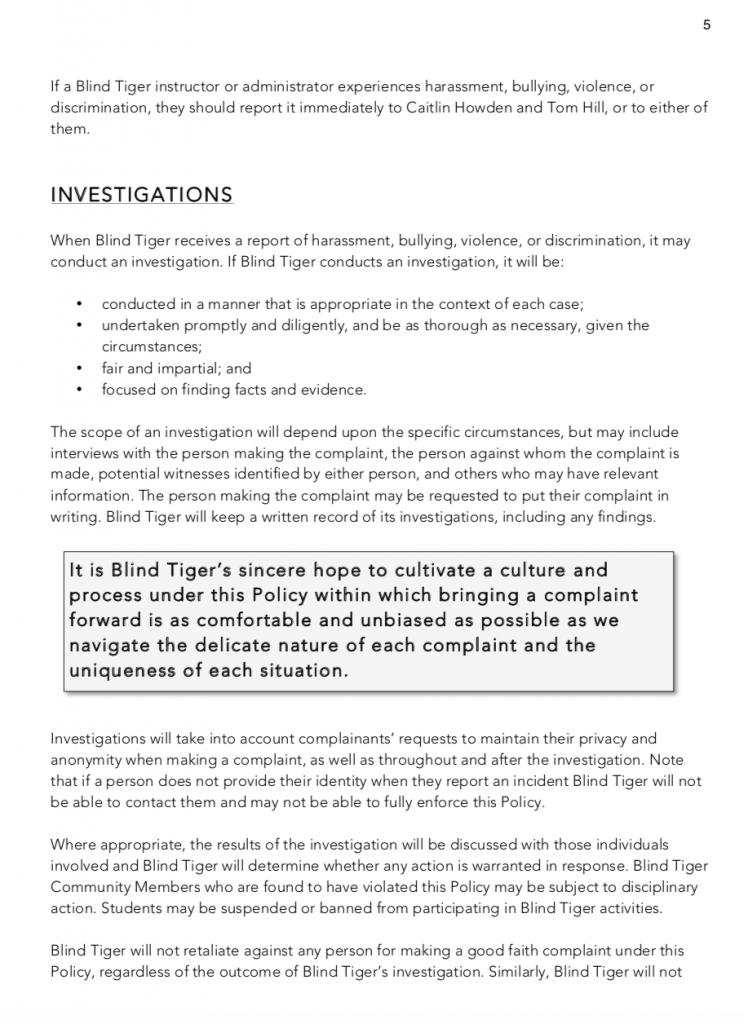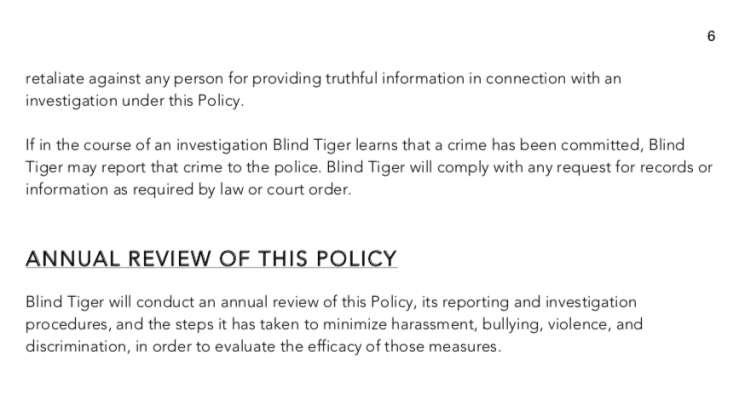 ANONYMOUS HARASSMENT FORM
If you are a student or other member of the Vancouver comedy community, and would like to use our anonymous harassment form, click here. Note that the form does not disclose your name, but that anything written in the form will be read by Caitlin Howden and Tom Hill, Co-Directors of Blind Tiger Comedy, as well as Helen Camisa, General Manager of Blind Tiger Comedy.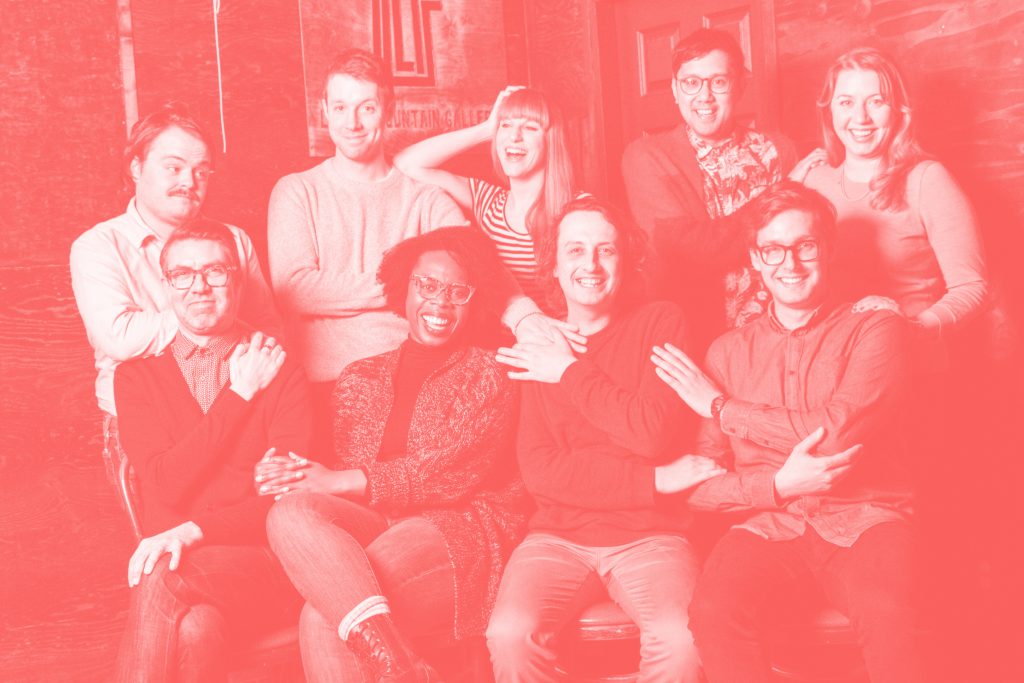 THE BLIND TIGER COMEDY FINANCIAL AID SCHOLARSHIP
Blind Tiger Comedy is committed to reducing barriers for anyone who wants to try comedy. The BTC Financial Aid Scholarship will be given each semester to cover the full tuition for a) two students interested in an Intro class and b) two students interested in a Sketch or Long Form class.
Submit your financial aid application here.
We get that applying for financial aid can be stressful. We've tried to keep the application as short and unintrusive as possible. Every member of the Blind Tiger Comedy team has experienced significant financial need, and that's why this scholarship is important to us.
Scholarship applications are overseen by Blind Tiger Comedy General Manager Helen Camisa as well as Co-Directors Tom Hill and Caitlin Howden. Scholarships will be awarded on the basis of:
– Financial Need
– Availability of your class of interest
– Merit*
*Merit will be a factor strictly for students who have taken a class with us before – new students will be awarded on a first come, first serve basis. In the case of returning students applying for a financial aid scholarship, we will check in with your previous teachers to understand your enthusiasm, attendance, and acumen in class)
Financial Aid Applications are accepted on a rolling basis, first come first served. We endeavour to fill as many spots as possible with financial aid recipients. In 2019, we awarded over $45,000 in classes free of charge, and we are looking to top that number in 2020.
As always, we welcome your feedback on this programming via directors@blindtigercomedy.ca. Thank you in advance for your time!